Rivers of Ink Workshops 2015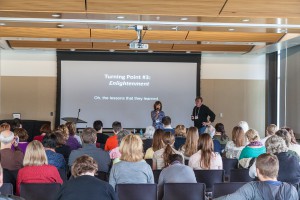 Engineering The Unreal:  Setting the Stage for you Science Fiction and Fantasy, Douglas Lee
This workshop is dedicated to building a speculative world for a reader utilizing subtext rather than exposition. We will look at the sleek, the artistic and the most efficient techniques of some of the grandmasters who paved the way in SFF and maintained absolute control over their narrative worlds.  (see Douglas's Bio on the Literary Agent page)
Planning a Book Launch, Laura Christianson
You have a book in the works. When should you reveal the cover? What should you include on your author website? Do you have to be engaged on several social networks? Run contests with big-ticket prizes? In this workshop, you'll learn insider secrets for planning a successful book promotion.  (see Laura's Bio below)
Four Aspects of Magical Realism, Kathleen Alcalã
The class will read a short story together (I will hand out copies, but will also read it out loud). We will then discuss four traits that make it a work of magical realism. I will then provide a prompt, and the class will have 10 - 20 minutes to write. Those who choose to will share their work, and we will discuss what makes them magical realism, if anything. If time, I will end with a brief story of magical realism I wrote. (see Kathleen's Bio on the Keynote speaker page)
Finding Readers in the Digital Age, Elizabeth Fountain
This informal workshop examines the best ways for writers to find readers who will love their work. Participants will explore the tangle of options for publishing and promoting their writing, and will learn to use the same passion that sparks their work to connect with readers. (see Elizabeth's Bio below)
Touching the Hearts of Your Readers, Connie Connally
When your writing rings true emotionally, it lingers with your reader long after the last sentence. This seminar will focus on sharpening the emotional impact of our fiction and narrative nonfiction. We will read and discuss short literary excerpts, looking for details that suggest deeper emotional layers. We will explore how imagery can create an emotional setting and how a character's unspoken responses might signal fears or painful memories. Through exercises, we will practice heightening emotion in our writing, making it unforgettable! (see Connie's Bio below)
Present Your Work at Festivals, Libraries, Bookstores & Cafes, Brandon Pitts
Authors are not finished when their work is published; they are expected to take part in marketing their work through live presentations. Internationally published poet Brandon Pitts will discuss the role of the writer in marketing and give tips on effectively presenting your work to a live audience. (see Brandon's Bio below)
Read Like A Writer, Annette Pimentel
When your critique group isn't handy and that MFA program is out of reach, use a reading journal to hone your craft and research the marketplace. Learn how to set up a reading journal, what to put in it, and how to use it to grow as a writer. (see Annette's Bio below)
Point of View, DeeAnna Galbraith
Learn the different types of POV and which is best for your project. Weed out author intrusion and weak action by strengthening your character's point of view. Practice grounding your character's POV solidly when transitioning between multiple POVs. Workshop will use samples from published works. Bring your own favorite book to analyze. (see DeeAnna's Bio below)
Mind Your Own Business, Karen Spears Zacharias
"Mind Your Own Business" & other advice you need to ignore: Sure-fired skills to strengthen dialogue and storytelling abilities. (see Karen's Bio on the Keynote speaker page)
Crafting a Bedrock Foundation for Enduring Success, Jason Andrew Bond
We find inspiration and set a flurry of goals, but after a time, like so many others, we falter.  It doesn't have to be like this. We'll delve into the mechanics of your brain, create an understanding of why we fail, and hack those mechanisms to create lasting success, guaranteed. (see Jason's Bio below)
Pandora, Pearl Tree & Pinterest, Barbara Seiders
The worlds we create in the books we write are rich with relationships, places, history, food, art and music. This presentation will describe electronic tools that can help us create these worlds, as well as provide additional depth of experience to our readers beyond words on the page. (see Barbara's Bio below)
The Unconquerable Antagonist, a Novelist's BFF, Michelle Hansen
A good plot is only as strong as the antagonist. The best stories develop when the protagonist is outmatched by the antagonist. This workshop will show you how to build a foe who can support a winning plot, and then how to give him what he deserves in the end. (see Michelle's Bio below)
World-building Research in Scrivner, Darin Ramsey
Summary to come. (see Darin's Bio below)
Basics of Kindle Direct Publishing, Phoebe Seiders
Kindle Direct Publishing, Amazon's digital self-publishing platform, has come a long way since its launch. Learn about the KDP platform, the publishing process, the tools Amazon offers to help you format and publish your content (such as Kindle Textbook Creator), and best practices -- direct from an expert. Bring any and all questions you have about publishing on Kindle! (see Phoebe's Bio below)
Crazy Little Thing Called Love, Krista Lynne Jensen
Romance in fiction is everywhere and we can't get enough of it. But writing romance isn't just "boy meets girl, boy loses girl, boy gets girl back'. This class will explore the definition of romance, how to make it fresh, what it takes to draw readers into your characters' hearts, build tension, and how to elicit the sigh. (see Krista's Bio below)
Author Branding, Renee Reardon
What does "branding" mean?
How
do you do it? Identifying products, including authors, is a key to marketing. This session will cover how to stand out in any genre and emphasize the singularly unique author behind the book. (see Renee's Bio below)
Presenter Bios:
Laura Christianson
Laura Christianson owns
Blogging Bistro
(BloggingBistro.com), a Seattle-area marketing company that specializes in building custom WordPress websites for authors and small business owners; content writing and editing; social media and blog consulting; book launch campaigns, and book cover design.  Laura has authored three books and thousands of articles. She lives in Snohomish with her husband and their two young adult sons.

Elizabeth Fountain
Elizabeth Fountain left a demanding job to pursue her dream of writing novels
.
A small press published her books
An Alien's Guide to World Domination
(2013) and
You, Jane
(2014), and she has three more in the works. A seasoned educator and presenter, she loves connecting with authors and readers.
Connie Hampton Connally
I have a bachelor's degree in English and am currently pursuing a master of fine arts in creative writing through the Northwest Institute of Literary Arts. Over the years I have done professional editing and proofreading, contributed to newsletters, and assisted writers in critique groups. I have written a children's book and adapted it for the stage (
The Orchestra in the Living Room
, published in 2005 by the Northwest Sinfonietta and performed in 2007 and 2008), and I am currently a guest columnist for the Tacoma
News-Tribune.
An essay I wrote was recently accepted for publication by the literary magazine
riverSedge.
Last year the first scene of my in-progress novel,
Voice,
won the Rivers of Ink writing contest. In addition, I have taught high school English (Tacoma Baptist Schools in Tacoma, WA) and children's music classes, and recently I have led journaling activities at arts workshops in Tacoma. Because of my teaching background I am at ease and effective in front of groups, and I look forward to leading a seminar at Rivers of Ink.
Brandon Pitts
Brandon Pitts
is the author of
Tender in the Age of Fury
(Mosaic Press, 2015) and the popular poetry collection
Pressure to Sing
(IOWI, 2012). Known for subverting gospel and scripture to create political allegories, Brandon first came onto the Toronto lit scene in 2010 with the short story
the BC Crib
, published in the anthology
Canadian Voices Volume II
. In 2011, he was inducted into the prestigious
Diaspora Dialogues
as an "Emerging Voice" for fiction, followed by the novel
Puzzle of Murders
(Bookland Press, 2011) and the production of three plays.
Annette Pimentel
Annette Bay Pimentel kept checking out picture books long after her 6 kids had stopped reading them and eventually she started writing them too. She has written for children's magazines and this year she had two books published by Amicus. She has three picture book biographies coming out in the next three years—one from Charlesbridge and two from Nancy Paulsen Books. She is represented by Kathleen Rushall of Marsal Lyon Literary Agency.
DeeAnna Galbraith
DeeAnna is a freelance editor and travel agent for happy endings (romantic suspense, women's fiction and mystery author). She writes and teaches for the love of it, has never met a dog she did not want to pet or a pie she did not want to taste. She tries to live life without props. She lives in Eastern Washington State with her first husband and HRH Pandora, the naughty goddess and sister Gretchen (miniature pinschers).
Jason Andrew Bond
Bestselling author Jason Andrew Bond grew up in Oregon and currently lives in Washington State with his wife and son.  He holds a Bachelor of Arts in English Literature from the University of Oregon and an MBA from the University of Colorado.   When his first novel Hammerhead unexpectedly reached bestseller status, he dedicated twenty-five percent of his profits to disabled U.S. veterans.  Jason takes a hands-on approach to writing.  When SCUBA research couldn't wait for summer, he found himself certifying in Puget Sound's frigid January waters.  Outside of writing and his family, martial arts are an important part of his life. At eighteen years of age he entered an Aikido dojo for the first time, and has since trained in Jeet Kune Do, Tae Kwon Do, Shudokan Karate, Goshin Jutsu, Judo, and Brazillian Jiu-Jitsu.
Barbara Seiders
After spending the first 30 years of her career working as a scientist for the Department of State, the U.S. Army, the Arms Control and Disarmament Agency, and the Pacific Northwest National Laboratory, Dr. Seiders currently divides her time between dual passions, as a student of excellence in leadership and teamwork and as an author, editor and micropublisher. She has two works in progress, one fiction - a global medical mystery and one non-fiction - a book on leadership principles.
Michelle Hansen
Michelle A. Hansen was born the Tri-Cities. She holds a Bachelor of Arts in English Teaching from Brigham Young University and a Master of Fine Arts in Creative Writing from the Northwest Institute of Literary Arts. She taught high school English for six years, where she fell in love with young adult literature. Her first novel,
Painted Blind
, released in 2012.
Before They Find Us
is her second novel for young adults. Connect with Michelle A. Hansen at her website
www.michelleahansen.com
, or on Twitter @michelleahansen.
Darin Ramsey
Bio to come
Phoebe Seiders
Phoebe Seiders worked at Amazon for over 8 1/2 years, including 4 years on the Kindle Direct Publishing team doing content review and Executive Customer Relations. She also participates in National Novel Writing Month every year, with varying degrees of success.
Krista Lynne Jensen
Nearly every one of Krista Lynne Jensen's elementary school teachers noted on her report card that she was a "day-dreamer". It was not a compliment. So, when Krista grew up, she put those daydreams down on paper for others to enjoy. When she's not writing she enjoys reading, hiking, her family, and sunshine. But not laundry. She never day-dreams about laundry. Krista writes LDS romance, and fantasy. She is the author of OF GRACE AND CHOCOLATE (2012 Whitney Award Finalist) and THE ORCHARD (2013 Whiney Award Finalist), FALLING FOR YOU (2014), KISSES IN THE RAIN (2015), and has novellas in Love Unexpected: With All My Heart and A Timeless Romance Anthology: Love Letters (both 2014). She is a member of LDStorymakers. Visit her blog at
kristalynnejensen.blogspot.com
.
Renee Reardon
Renee Rearden had such a passion for the written word, she changed her major in college and received a Court Reporting degree. She works full time as an Official Court Reporter. Now, instead of just
writing
down what everybody else says, she spends some of her time writing paranormal romance and urban fantasy. She lives in the Pacific Northwest with her family, where she is currently working on her latest novel. Visit Renee Rearden at her website:
www.reneerearden.com
www.reneerearden.blogspot.com
www.goodreads.com/reneerearden
www.twitter.com/reneerearden
www.facebook.com/reneerearden
             reneerearden@yahoo.com 2007 Golden Rose winner in the paranormal category (MOONLIGHT BLEU) 2007 Stella Cameron Scarlet Boa winner (MOONLIGHT BLEU) 2010 Gayle Wilson Award of Excellence Finalist (MOONLIGHT BLEU) 2010 National Readers Choice Award Finalist: Best First Book and Best Paranormal Finalist (MOONLIGHT BLEU)