This has been a big year of exciting growth and changes for Rivers of Ink. We are thrilled to bring you this year's program of events. A quick overview:
Friday and Saturday will be held at Richland Public Library and feature two full days of speaker workshops. Sunday will be a half-day workshop at Kennewick Mid-Columbia LibraryConference Schedule . Friday and Saturday are registration required and Sunday is free, even if you didn't attend the other days of the conference.
Registration for Friday and Saturday can be single day or both days. Lunch, provided by Graze, is included in the price. Sunday will have light snacks provided.
This year will feature a poetry and flash fiction contest sponsored by Friends of the Mid-Columbia Libraries. It's free to enter! Find out more details [here]. Winners will be announced on Sunday of the conference.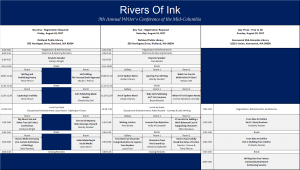 Conference Schedule & Workshop Descriptions
Day 1 - Friday, August 18th (Richland Public Library)
8:30-9:00      Registration & Refreshments
9:00-9:10       Welcome & Opening Remarks
9:10-9:55        Keynote Speaker Carolyn Wright
9:55-10:00     Break
10:00-11:10    Breakout Session 1
Writing and Publishing Poetry - Terry Persun: This session will cover some of the basics of poetry and also go into greater detail for the intermediate or advanced poet. Poetry is a personal thing in many cases, so the discussion will be focused on potential ways to approach poetry as well as some general idea on where to get published.
Self-Editing: The Focused Draft Approach - Nicole J. Persun: Editing your messy first draft can feel daunting, especially if you don't know where to start. Perhaps you're afraid you'll miss something, or maybe you're worried about over-editing. In this class, I'll address your self-editing concerns and walk you through how to edit through a series of focused drafts.
11:10-11:20    Break
11:20-12:30    Breakout Session 2
Capturing Creativity - Terry Persun: This session is for those who want to pull from other sources for their ideas, who wish to find ideas everywhere, and for those who are concerned about losing the ability to find "something to write about." When it comes to capturing creativity, writers have many avenues to choose from, most of them very close.
Self-Publishing Made Simple - Shaela Kay Odd: Have you considered self-publishing but don't know where to start? This class will go over the basics of what you need to know about self-publishing and how to get started. It will also include a live demonstration of how to set yourself up as a publisher on CreateSpace.
12:30-1:30      Lunch (Sandwich buffet by Graze, Educational Entertainment: Jason Bond - Fighting In Fiction)
1:30-2:40        Breakout Session 3
My Worst Job and Other True (of False) Confessions - Carolyne Wright: We will read and discuss poems and short prose/flash fiction and nonfiction about work, jobs, bosses, co-workers, roommates, neighbors, and other human relational spaces, and write our responses. This workshop is high-energy and fun!  It is open to writers of all ages and levels of experience.
The Art of Mystery: Risk, Revenge, Reward - Wendy Kendall: A look into the Mystery/Suspense/Thriller (M/S/T) genre, showing how to tell the difference, and how those differences shape reader expectations. You'll learn to build a better M/S/T, effectively pitch your story to the right market, and includes hands-on activities and resources for writers and mystery lovers.
2:40-2:50       Break
2:50-4:00       Breakout Session 4
How to Write Every Day (For Certain Definitions of Writing) - Darin Ramsey: Write every day, and you're a writer. We've all heard it before. But what does it mean? This workshop offers a method that allows you to write, edit, and promote your work no matter how little time you have every day.
Indie Marketing & Social Media - Jason Bond: This program will cover the key elements required for an independent author to create the most critical element for his or her commercial success...raving fans. It will discuss core tools such as a professional website and strategies for connecting with readers through social media outlets such as Twitter and Facebook. The use of blogging as a source of drawing in readers and email list strategies to keep them engaged will be covered.
4:00-4:10         Closing Remarks
DAY 2 - Saturday, August 19th (Richland Public Library)
8:30-9:00         Registration & Refreshments
9:00-9:10         Welcome & Opening Remarks
9:10-9:55          Keynote Speaker Pam Binder
9:55-10:00        Break
10:00-11:10      Breakout Session 1
Art of Spoken Word - Jordan Chaney: "Blame holds you back, responsibility moves you forward." Discover how rhyme and storytelling can help you overcome generational obstacles. This high-energy workshop is interactive and full of heart, humor, storytelling and poetry. Participants will be inspired to take what they learn to not only help themselves but to become the kind of leader that inspires others to overcome the life challenges that get passed down from generation to generation.  This workshop will reveal 3 powerful leadership qualities that you can begin applying to your life immediately!
Layering Your Writing - Wendy Kendall: We'll talk about how layering is done so that it gently persuades a reader's imagination, never directs or demands. And as it's said in Italian, Molti Strati is multiple layers are woven together. We'll review keys to layering and then attendees can incorporate that into their own style.
What Can You Do With Point Of View? - Wayne Ude: Sometimes point-of-view seems to be a straitjacket, full of restrictions which can't be violated. Think of it instead as a dance between writer and character, sometimes a formal minuet, sometimes an improvised jazz step. We'll dance with first person central or peripheral, move on to third-person limited or shifting (also known variously as "limited omniscience" or "free indirect"), and finish with the omniscient narrator.
11:10-11:20      Break
11:20-12:30      Breakout Session 2
Art of Spoken Word - Jordan Chaney: "Healing begins with communication." In this workshop, we build on Session 1 and dive deeper into our personal stories and explore our challenges with creativity. We begin with a short story in life lessons, a spoken word poetry performance, and surviving the ills of a poverty-stricken home; lack of education, drug abuse, mental health etc. The workshop then breaks out into a high-energy interactive group challenge that has a deeper and universally applicable message!
Why Self-Publishing Isn't For Everyone - Bruce Blizzard: After publishing two books independently on Amazon, this author has doubts whether it's the best option for most beginning authors. Unless writers are willing to do everything a traditional publisher does on their own, they are likely to end up with a book they are not happy with. Bottom line: Self-publishing is not for everyone.
What a First Chapter Needs - Connie Hampton Connally: In fiction and narrative nonfiction, a good opening sets up dramatic tension for the whole story.  Using discussion and writing prompts, we'll explore how to embed tension in both the setting and in the heart of the protagonist. Come explore how to identify your story's overarching conflict and how to foreshadow it, or even start it racing, in the beginning pages.
12:30-1:30       Lunch (Sandwich buffet by Graze, Educational Entertainment: Adam Kessler - Comedy & Joke Writing)
1:30-2:40         Breakout Session 3
The Agony and Ecstasy of Writing a Series – Pam Binder: We have all heard the advantages of writing a series…once readers fall in love with a character, they want to learn more about them and will wait breathlessly for the next book in the series. But if an author plans to write a series, questions emerge. Will the characters continue to change? What themes unite each book? How can you stretch a story concept across multiple books? Pam Binder recently signed a six-book contract for her series, the Matchmaker Cafe and faced these same questions, and a lot more. Join Pam in this interactive workshop where she will teach you how to develop a series outline, how to keep each book fresh, and most importantly, how to avoid running out of ideas or becoming board with your own series.
Lessons from Rejection - Holly M Campbell: Learn from my mistakes. Using personal anecdotes, actual rejected and then later accepted query letters, as well as feedback from agents and editors, I show participants how I used rejection to hone my writing and eventually find a publisher. Participants will learn to identify the reasons they're being rejected (is it the query letter? The manuscript?) and how to embrace the process of write, rewrite, submit, repeat.
17 Secrets for Adding a Well-Balanced Cast of Supporting Characters - Ellen Harveaux: No matter your genre, crafting your cast of supporting characters is as important as birthing your protagonist. If the main character is the skeleton, then the minor characters are the fleshing out of the body. The right combination of characters gives a real life touch to the story and spice to the plot. Achieving a well-balanced cast is possible if you know the 17 Secrets of Success.
2:40-2:50        Break
2:50-4:00        Breakout Session 4
Your Novel as Visual Art: Using Illustration to Capture Your Readers - Laura Turo: Illustrations are not just for children's stories. In an increasingly visual world, modern literature is turning to visual art to add depth and dimension to storytelling. Learn how to identify artistic moments in your works and how to communicate with illustrators to make your visions come to life.
Characters from the Ground Up - DeeAnna Galbraith: Write characters your readers will remember. Go beyond basic character cheat sheets to learn the power of names, descriptions, and personalities. As an author, developing strong characters to inhabit the world you create allows them to tell the story for you. No need to reinvent the wheel. Learn how to build on three-dimensional characters, from traits and personalities, to voice, to interactions with other characters.  Attendees will use in-class practice and handouts to build skills.
How to Successfully Break the Rules of Fiction - Nicole J. Persun & Terry Persun: There are many writing "rules," from "show don't tell" to "don't use adverbs." In this popular session, we'll discuss 1) common rules of fiction 2) their deeper meaning 3) examples from bestselling fiction where the rules are broken and 4) how you can successfully break the rules, too.
4:00-4:10         Closing Remarks
DAY 3 - Sunday Aug 20th (location switches to Kennewick Mid-Columbia Library)
1:00-1:15           Sign In & Welcome
1:15-2:30           Workshop Part 1
From Idea to Outline Part 1: Story Structure - Kimberly Kessler: An in-depth look at how to unearth your best story, no matter where you are in the development process. Deep dive into the inherent structure of this beautiful thing called Story. Class includes demonstration and discussion of several story models, such as three act structure, the story circle, story beats, and more.
2:30-2:40         Break
2:40-3:50          Workshop Part 2
From Idea to Outline Part 2: Building Your Outline - Kimberly Kessler: Walk through multiple tools and methods for outlining and discover and build your preferred method. Put concepts into action with interactive examples and outlining a story from scratch as a group. A great class for anyone wanting to take their storytelling to the next level whether you identify as a planner or a pantser!
3:50-4:00         Break
4:00-5:00         Writing Our Own Future: Community Brainstorm & Planning Session, Poetry & Flash Fiction Awards